Even though it may not be completely in the spirit of Soundbytes, I'm writing this one on Thursday, while waiting for my flight back home. It's been an exhausting but also rewarding week at the Oracle Code One conference in San Francisco. Wait, what? Wasn't JavaOne supposed to happen around these days? Yep, that's right, Code One is the new JavaOne. Oracle's goal with this rename is to broaden the scope to a more general technology conference. Of course, still with a healthy dose of Java.
You can imagine that Bert (who also presented at Code One) and I approached the rebranded JavaOne with some skepticism. Why change a winning formula, after all? In the end, our skepticism seems mostly unwarranted. Oracle did a great job preserving a conference that on the one hand gives a place to the wider Java community, while on the other hand acknowledging that the world we live in is polyglot. We also attended the Java Champions briefing before the conference. This yearly briefing is Oracle's way of recognizing Java Champions. We received an outline of the major strategic steps that have been taken and that lie ahead for Java. Also, we got the chance to ask questions of people in charge of these strategies.
On Monday, the first keynote of the conference was highly technical and Java-focused. Mark Reinhold (chief architect of the Java platform) — along with others — highlighted the new strategy around rapid Java releases. Now every six months, innovation will be delivered. Previously, major Java releases happened every three years or so. A big difference! Much of this agility is enabled by the Java module system introduced in Java 9 last year. Mark Reinhold was even kind enough to plug our book in the keynote!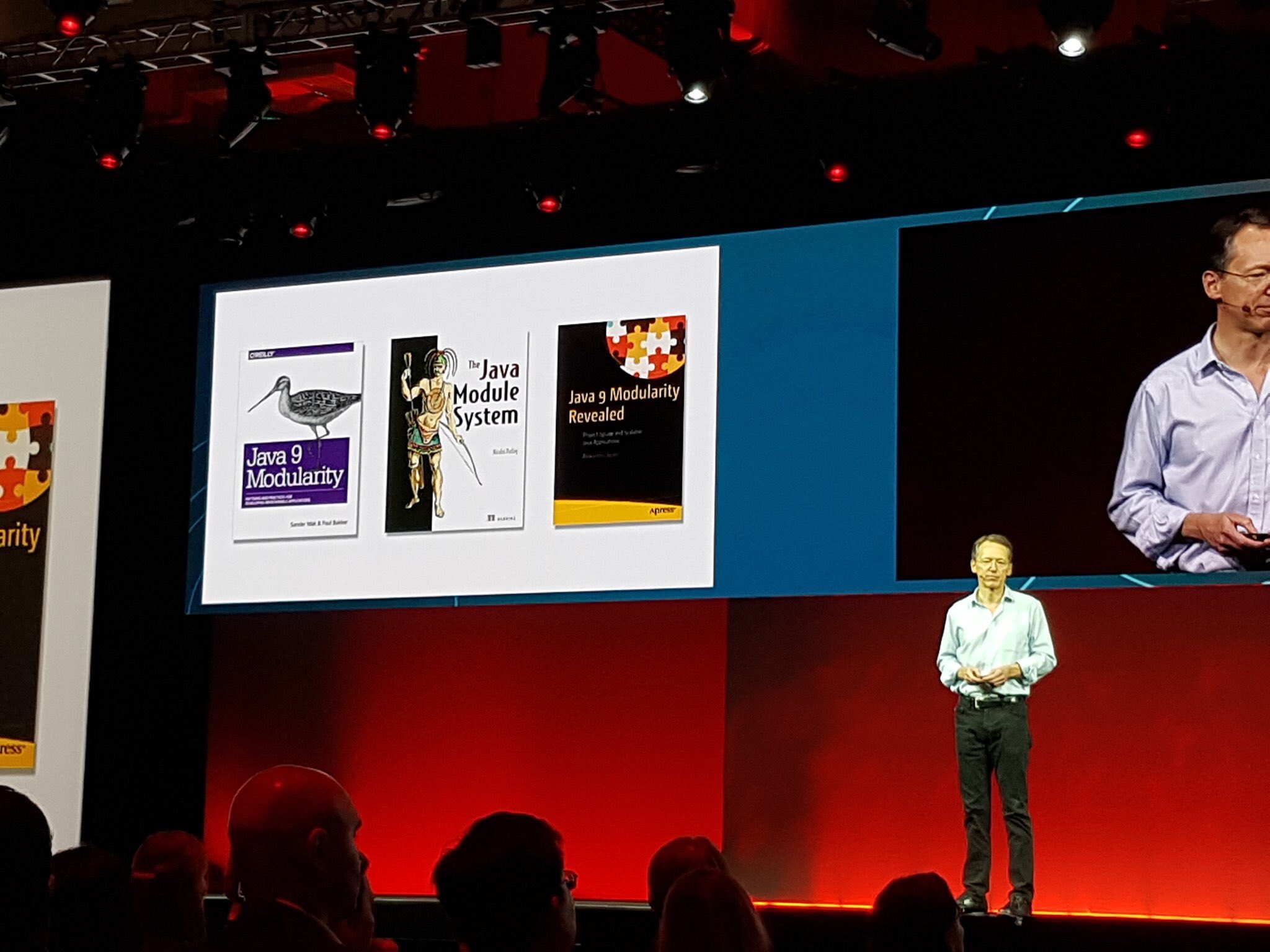 The second keynote on Tuesday showed the wider focus of Code One. For example, it featured a panel discussion between industry luminaries such as Guido van Rossum (creator of Python), Doug Cutting (creator of Hadoop) and several others that don't necessarily come from a Java background. This second keynote also focused more on Oracle's cloud offerings. A new brand, Oracle Cloud Native Labs was launched during the Code One conference. It encompasses interesting project such as Helidon, a Spring Boot alternative for Cloud Native applications, and Fn Serverless, Oracle's cloud-neutral functions-as-a-service offering. Both projects are open-source and can be run self-hosted. An Oracle hosted version of Fn Serverless on Oracle Cloud was also announced: Oracle Cloud Functions. So, it seems Oracle is making the right moves in terms of cloud. But you have to wonder if it isn't too litte, too late, when looking at the huge head start that Google, Microsoft and Amazon have with their clouds.
Look forward to a more elaborate report in the next Conversing Worlds. For now, it's time for music. Since I've almost spent 24 hours in aggregate on a plane in the last week, Fly from The Michael Gungor Band seems apt. Enjoy the interesting mix of styles during the song!